SUN IN PISCES at the Photobook Cafe, 25th February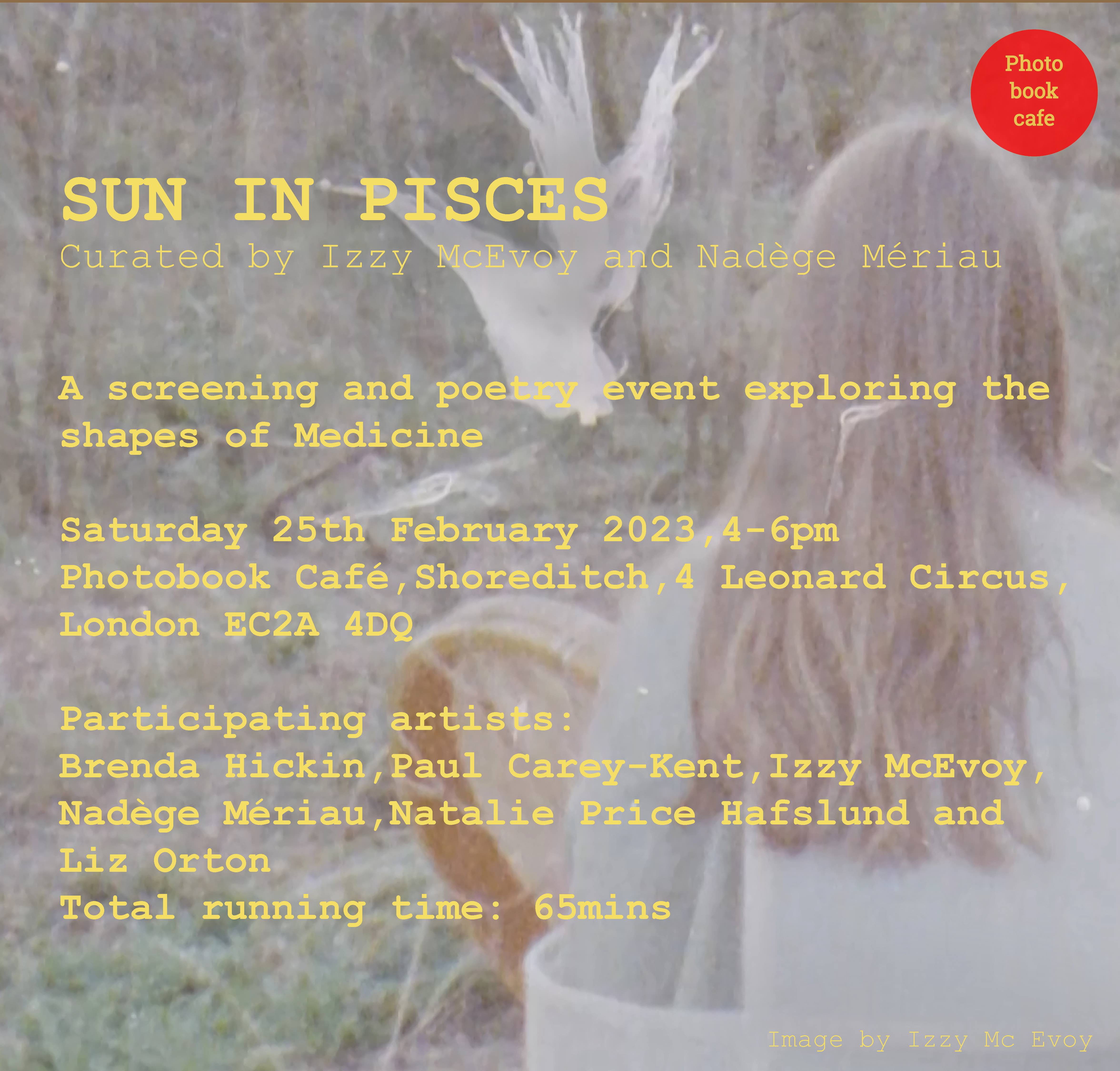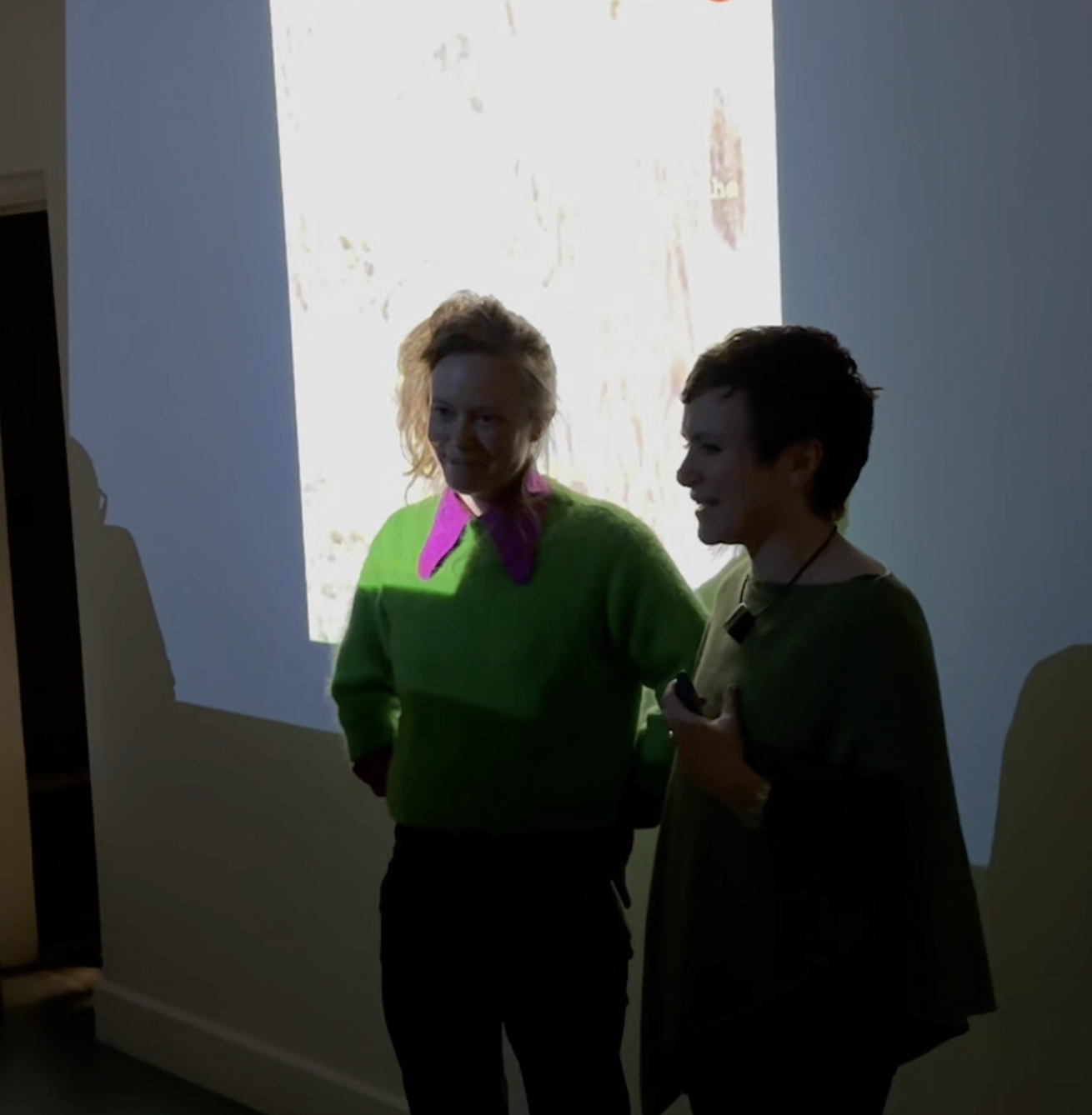 SUN IN PISCES
A screening and poetry event exploring the shapes of Medicine
Curated by Izzy McEvoy and Nadège Mériau
Saturday 25th February 2023, 4-6pm
Photobook Café, 4 Leonard Circus, EC2A 4DQ
BOOK HERE
https://www.eventbrite.co.uk/e/sun-in-pi…
Participating artists :
Brenda Hickin, Paul Carey-Kent, Izzy McEvoy, Nadège Mériau, Natalie Price Hafslund and
Liz Orton.
Total running time 65 mins
On the 25th February the sun will be transiting in the constellation of Pisces, a mutable, negative, water sign traditionally associated with the archetypes of the wounded healer, the mystic, the addict and the artist. It belongs to the 12th house, the house of self-undoing and surrender, that which rules prisons, hospitals, mental institutions and monasteries. It is also the residence of the collective unconscious, wellspring of symbols and images, still and moving, the house of photography and film. We trust that this is a good omen for our event and its participants, as they fearlessly explore the shapes of Medicine though film, photography and poetry.
Brenda Hickin's "Woman Bathing" is a twenty-two-minute, unedited silent film study of an 84-year-old woman executing the last solitary and intimate act of self-grooming after being assessed at risk and not capable to continue showering unaided.
"Every Body is an Archive" is a short film in which the body is re-conceptualised as a new kind of archive. Liz Orton interweaves two narratives: her experience of looking through her mother's medical images after her death; alongside a broader inquiry into the politics of machine vision and medicine.
"I'm only a head, and you're whatever you are. Together we're strong. More powerful than any of them", a film by Natalie Price Hafslund, is taken from "The Brain that wouldn't die", a 1962 American science fiction horror film that tells the story of a mad doctor who develops a means to keep human body parts alive. He keeps his fiancée's severed head alive for days, whilst he attempts to source a body to complete her. Here, the artist assumes the role of the head.
Paul Carey-Kent will perform a set of photo-poems composed during his 25 days spent in hospital initially with sepsis, then for a bowel operation after being diagnosed with Stage 4 cancer. "The Death Suite" pairs darkly humorous quatrains with views of Southampton hospital - the place, not the people - as he muses on death.
"Guide|2" is a film portrait of Ciara Sherlock, shamanic counsellor, founder of the Psychedelic Society of Ireland, and co-founder of Alalaho, a psilocybin retreat organisation. Following her interests that lie at the 'intersection of altered states of consciousness, nature connection and spiritual practice', Ciara leads the audience on a shamanic drum journey – an ancient trance-inducing ritual from the Celtic lineage.
In her short performative video, "Infusion", Nadège Mériau tentatively palpates the idyllic countryside view from an artist studio, as she reconnects with the "outside world" and her art practice following a year of seclusion in and out of hospital.
In "Future Facing", we see her Photoshopping the anticipated side effects of chemotherapy as she playfully braces herself for the strange experience of "un-selfing".